Intelligent travel experience
Before travelling, link your Hong Kong credit card to AlipayHK account or complete the ID verification to make payment at designated merchants. Popular Japan's shopping attractions have been extended from Fukuoka to Osaka, Tokyo and Okinawa and more, including the convenience store chain LAWSON, a fast food restaurant Matsuya, Daimaru Fukuoka, Osaka Aquarium, Kuromon Market, Fukuoka Airport, Ginza Karen and shopping zones in Tokyo and Osaka etc. You can settle the cross-border payment in more than over one million retail outlets and restaurants in mainland.  In addition, it has extended to over 10,000 merchants in Macau, including shopping malls, souvenirs shops and etc.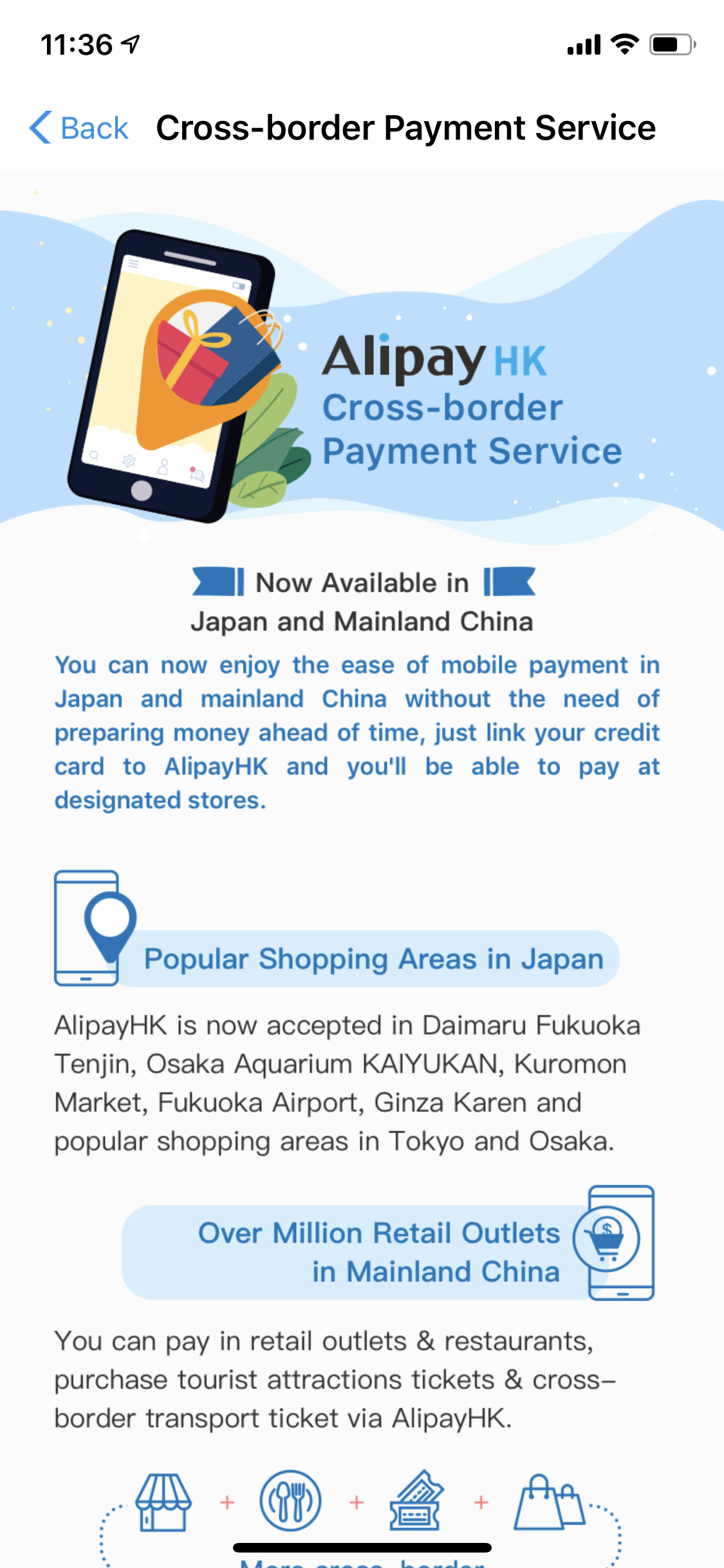 Cross-border mini-app - Alipay Connect
Alipay Connect is a cross-border information service platform in AlipayHK, which integrates travel and cross-border service to provide users with online services such as cross-border transportation, travel insurance and more in mainland China or other countries in future as well as local spending rewards.
Users could enable Alipay Connect in "Applications" and add it as homepage shortcuts for easy usage.
Enjoy the latest and preferential exchange rates
System will update the foreign exchange rate in real time. Users can settle the cross-border payment with preferential exchange rate via AlipayHK. All transactions are settled in Hong Kong dollars. It is not necessary to exchange foreign currencies beforehand and there is no currency exchange handling fee.
Get real-time currency exchange rate in "Currency" in Alipay Connect.
Scan Quick Reward Code
AlipayHK has extended Quick Reward Code and more discounts to all cities in mainland and designated merchants in Japan. Users could scan Quick Reward Code in designated merchants via AlipayHK to get offers when travelling.